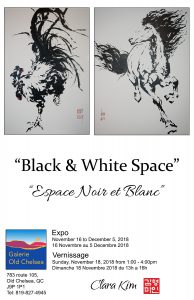 Hi all,
I'd like to invite you to my solo exhibition "Black and White Space", hosted by Gallery Old Chelsea, the vernissage is Sunday, November 18 2018 from 1:00pm to 4:00pm. The solo show is on from November 16 to December 5, 2018
Click here to learn more about this event in Facebook link.
Gallery Old Chelsea
783 route 105
Old Chelsea, Quebec J9P 1P1

It would be awesome if you bring your family, kids, friends and colleagues.
Everyone is welcome to my show. There is no admission fee, attendance is free.
I will display more than 20 Paintings.
https://www.facebook.com/clarakimart/