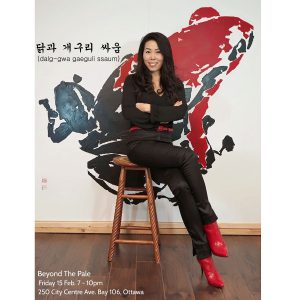 Beyond The Pale is very pleased to host this wonderful art opening by Ottawa's very own Clara Kim titled 닭과 개구리의 싸움 (dalg-gwa gaeguliui ssaum).
Join us on February 15th from 7pm-10pm for a delightful evening where you can Meet the artist and enjoy some local Craft beer (other options available as well)
Clara was born in South Korea and took inspiration from both Canadian and Korean cultures. She utilizes the concept of "The Beauty of White Space". In traditional Korean art, white space acts as a blank canvas to the people, allowing them opportunities for imagination, while the simplicity of the background draws attention to the highlight of the piece.
My art aims to combine the simple background and strong expression to display luxury in simplicity, passion hidden in calmness and beauty within sorrow.
The title is written in Korean because I want people to question the meaning, which is "닭과 개구리의 싸움 (dalg-gwa gaeguliui ssaum) The rooster & frog fight
The event is on from February 1 – March 31, 2019
Beyond the Pale Brewing Company
Unit 106, 250 City Centre Ave