Want to write your own reviews?
I love Clara's painting. Her paintings are bright and happy just like the painter.
I ordered a painting with my daughter's pic in a park, with lavenders in the painting instead of plain grass.
she painted it way better than I could ever have expected.
We love this painting in my family room. Clara Kim is an absolutely fantastic artist!
Clara is a fantastic artist and a great teacher!
I had a wonderful time with her. she taught me everything about paintings in a very short time. I made rapid progress because of her.
I would recommend her to anyone without hesitation.
Now I can create my paintings whatever I want!!!.
When I spend some spare time in my living room, two original paintings from the Korean - Canadian artists help me to relax. One is from Clara Kim. Her art work represents the beauty of nature, with the vibrant colour of the season. With her lovely painting, I feel at Home Sweet Home.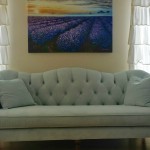 I am a huge fan of Clara's paintings since I purchased her Lavender field painting, which is the best focal point at my living room. I feel warmth and delight every time I see her Lavender field. In addition, it has modern and classical feelings all together. That is why I like her paintings so much. It was a great choice for my new home decoration. Thanks a lot Clara!
Clara Kim`s artwork shows such phenomenal attention to detail and artistic talent. Her dedication and commitment to her work is clearly exemplified in each of her paintings with a wide array of vivid colours which bring warm smiles. Calm and peaceful to the soul, Clara`s works of art showcase nature`s harmony in all its brilliant glory. Ms. Kim`s keen eye for decor and style really shine through with positive inspiration. What a remarkable blend of priceless artwork to be treasured and enjoyed!
"Fabulous Poppy painting I have, I admire it everyday with all my home visitors - I would recommend Clara's Painting to anyone. "
Winter In Blue is the one that is inviting and calming at the same time. Simply beautiful.
However, Clara is not only a great artist. She is a great teacher as well. I have seen her work with little kids for instance. Not only they have learnt or improved while being her students, but the enthusiasm and joy in their eyes show just how inspirational Clara is.
Congratulations to Clara.
Your artwork is amazing !! 🙂